If you're taking the time to read this, chances are you want to work with Calico or one of our group companies which is great news! So, we want to make sure you have every chance at being successful which is why we've prepared some hints and tips that will help you to make your application stand out and develop good interview techniques.
Making your application shine!
For some of our jobs, we receive lots of CVs and applications so it's a huge task for the hiring managers to wade through and make sure they pick out the best ones.
When we're trying to establish whether you're the right candidates, we'll be looking at how well your skills and experience match up to what we need in that role. Unfortunately, some great candidates may get overlooked if the relevant information doesn't stand out.
You need to be that one that stands out form the crowd, so here's how:
If applying by CV, make sure the formatting is clear.
Use sections to highlight some key skills/key achievements especially the ones that link to the essential and desirable criteria
List job history in chronological order with clear employment dates
Note a short explanation of any gaps in employment
Put your name and contact details at the top so that they stand out
List your qualifications
Give a short introduction to your professional profile – what are your key drivers at work, what motivates you? What makes you a great employee in terms of your skills and experience?
Look at the job description and person specification (these are with the advert) and have a look at the essential and desirable criteria and the types of tasks and outcomes required
Make sure you include on your CV or application form the skills, qualifications and experience you have that will evidence you are a great candidate for the job
If typing your CV or application form, use a professional font for example Arial or Times New Roman. DON'T use comic sans! Your CV needs to look professional and first impressions really do count.
If applying by CV, try to fit the content on 2-3 pages. Anything longer will reduce the chances of the key information being seen.
Happy applying!!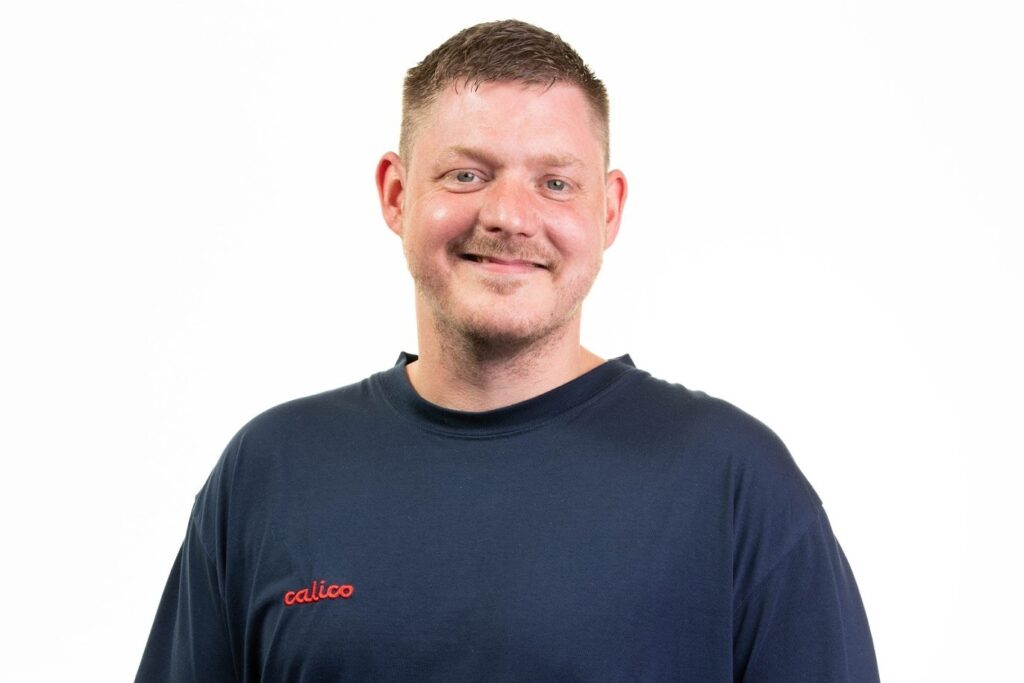 I started at The Calico Group almost four years ago. When I first started, I was shy and not very confident. The Calico Group has given me an opportunity to grow and develop in my job as Maintenance Assistant, and to make lots of new friends. I now work closely with building contractors and customers, and have grown in confidence. Thank you to The Calico Group for the chance to be the best I can be.
Geoff Birkett, Maintenance Assistant
Congratulations! You've made it through the shortlisting and we are excited to hear more about what you have to offer.
Depending on the role, we may do a short telephone screen before shortlisting for face to face interview. If we do, this will be arranged at a time to suit you and will be just a short 5-10 minute call where we get more insight into your relevant experience and you're fit for the role.
If you make it through the telephone screen, you will be invited to a face to face interview where you will normally be assessed by a panel of two who will ask questions to understand your suitability to the role.
We know that interviews can be nerve-wracking but it's important that now you've made it to this stage that you showcase what you have to offer – on paper you're great so now you just need to show you're the best person for the job. Here's how:
Check out our values – you will be asked some values based questions – try to think how you demonstrate them and how they fit with your personal values
Think about the key skills, behaviours and experience required for the job – again, you'll be asked to talk about this in interview whilst relating to specific situations. The way we do this is through competency based interview questions and there's a great technique you can practice to help you answer these questions well.
Practice! Why not come up with some questions you think you might be asked and practice with a partner who you feel comfortable in front of and who can give you some feedback. Or, practice in the mirror. Either way you choose to practice, it will help you feel more prepared and confident on the day.
What to wear? First impressions count, so it's important to make a good one. Part of this is about being well presented. But we're not asking that everyone comes to interview in a shiny new suit so don't panic! However, do think about the type of role you're applying to. If it's a professional, senior or office based role a suit or smart business wear would be the most appropriate choice. But if it's a front line service role where you wouldn't be expected to wear formal clothing in your work, you wouldn't be expected to wear formal wear to interview – just come smart and well presented. In either situation, just be sure to wear a smile!
A great way to test out how someone will perform in the future is to see how they have performed in the past. To assess this, we use competency based interview questioning as part of our face to face interview process.
An example question might be: 'Tell me about a time when you've had conflicting priorities. How did you manage your workload'?
The interviewer may probe into your answer to get enough depth to the question. For example; 'Tell me why you made those choices about your priorities?'
Sometimes it can be hard to think on the spot which is why it's a good idea to think about what they might ask you beforehand based on the skills and behaviours needed for the role.
Now all that's left is to wish you luck and we look forward to having you as part of our team!